end of the season…….almost
At the tail end of the season, very seldom does the sea get rough…. The fish are still hanging around and are on the bite, but the calm seas limit my fishing trips and catches at the same time.
Having said that, with the right sea conditions, its not too difficult to find my mark.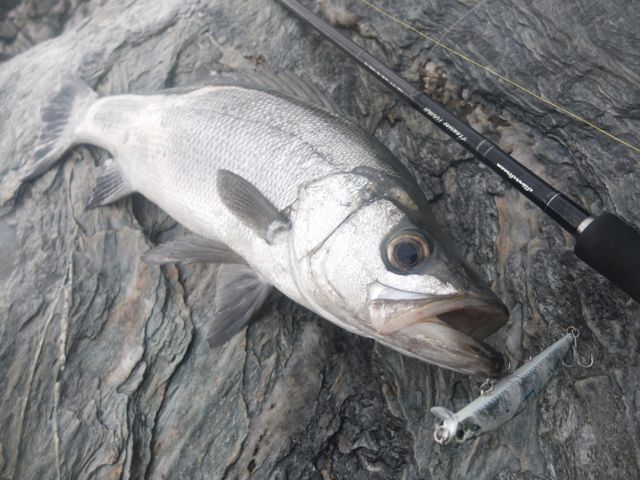 This time with a little help from one of my long time favorites, the Tide Minnow Slim 140. Although it went through a face-lift, it has been improved to be a little more user friendly with its some what deeper diving depth and water grabbing ability. This has drastically eased my style of fishing in the rough waters.
After a couple more fish on the same lure, it was time to try another approach as the bites had totally stopped.
I though that the seabass had been spooked with my continuous use of the same lure, so it was time for a totally different approach with the Larus Twithcher 95. This isn't simply a change of lure size, action, color or silluete, but a change in the retrieval/tracing method. An ordinary lure is generally desighed to perform with a straight retrieval, or with a few optional twitches here and there depending on the anglers style and fish species. The Larus Twitcher, however, is a lure you need to let the current do the work.
I wil touch on this on another occation.
Tackle Data:
Lure: DUO Tide Minnow Slim 140, Larus Twitcher 95L, etc.
Rod: Ripple Fisher Avarice 106MH
Reel: TP4000
Line: PE2
Leader: Sunline Shock Leader System 40lb