Markos Vidalis: Spybaiting? Much More Than Bass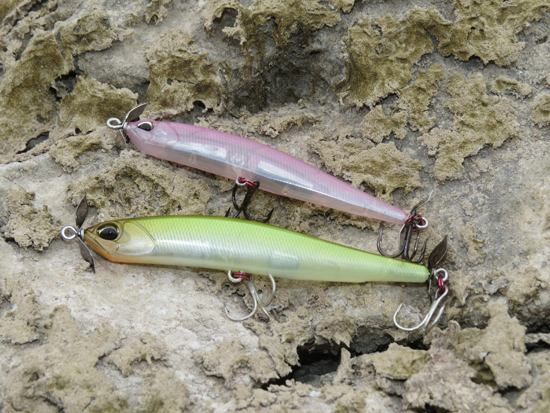 A very nice thing that I love with DUO is that even if I live in the Mediterranean region, they keep on bulleting me with samples of lures that are normally designed for species that are really absent here. This of course means nothing for me, because time showed that every lure has its time and place to work in different species also, or even in different waters like freshwater lures in saltwater! So I have the time and baits to experiment! This year I discovered something very interesting! I love barbell fishing in lakes because they give a very strong fight but their season in striking lures, normally ends until half of October. Unfortunately this year the strong rains and drop of temperature came earlier and the waters in those lakes got colder fast. This sudden drop of temperature stressed the fish and made them reluctant to strike to my normal vibrating lures and spinnerbaits – spintails. So the game looked like it is over for this year…? How wrong I was!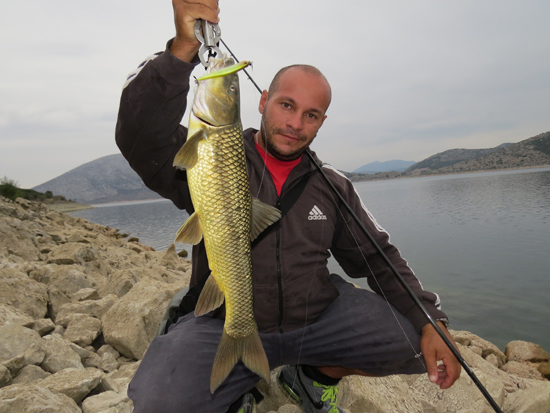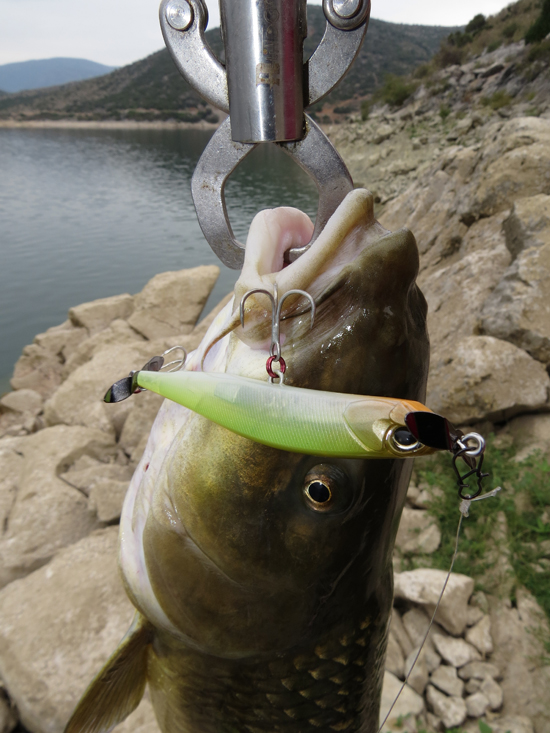 While reaching half of the distance fishing, and be absolutely sure that there is no luck for me, I noticed some Spinbait 80 in my bait case! It was one of those well known times that when we don't get anything we start to try everything else! I had the gear, I had the lures, I had watched the spybaiting technique in DUO videos by foreign anglers, so I only had to modify it a little into the environment I was. "Hmmm… maybe this could work" I said to myself! And so I did, and I decide to fish the rest of the day, only with Spinbait 80! And so I did. At first I tried it to shallow waters to see how it acts and what is the best speed for rolling action and in less than a minute I was ready for my first spybaiting fishing!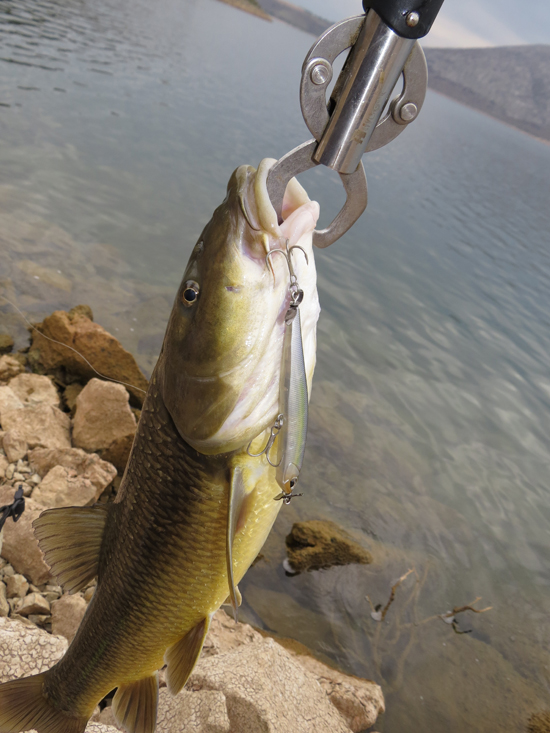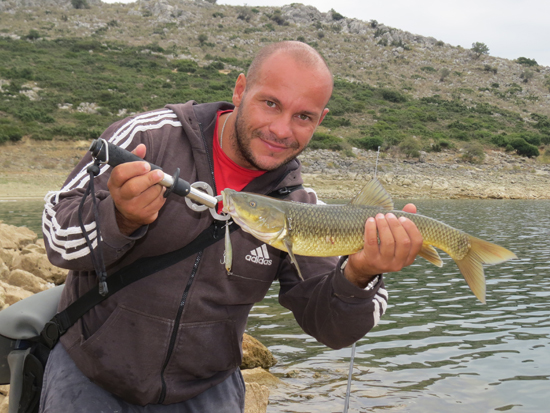 The concept was like this. Normally barbell wait on the rocks lower or in midwaters and wait for the prey to pass and attack it in surprise. This lure was giving me the chance to fish from bottom to the surface like an emerging small fish. So I continue to walk for my search and it didn't take long until my first strike! Actually on my third attempt I had a very strong strike that really surprised me and a nice two kilo Barbel colored the dark day with gold! I started to experiment with the colors I had trying to use more (warm) ones due to the cloudy particular day and I was right. Fish started to strike more aggressive and the more I was reducing the speed, the more I got strikes! The cherry on the top of the cake was a 1.5 kilo barbell that attacked my lure while it was going trembling down after the cast. I just saw my line goes fast like crazy and I instantly close the bail and hook up the fish! Just amazing moments for an angler! Don't you agree??
So in the end, a doomed day, turned to be a very interesting and joyful one! Now I'm very anxious to see if I can have results during winter that normally is impossible, and I can't wait for next summer because if this lure is so effective now with sluggish fish, I really can't imagine what it will do when barbell are normally active! But I guess we will see it in a few months! Right? Until then take care and tight lines!
Markos Vidalis
https://www.facebook.com/pages/Markos-Vidalis-International/567824510004323?ref=br_tf