Jerremy Akiyama: Summer fishin'
Appologies for not updating my fishing trips.
My life has finally settled with our new member of the family and am finally able to head out to the sea once in a while.
With the snappers on the bite, its not too difficult to hook one up even when targeting the blue runners with jigs. I also encountered what seemed to be a sail-fish around 30kg swimming under the bow of my kayak. Threw a top water lure at it and a massive dorado snached it from the tip of his bill….. It could have been quite interesting but then again, I struggled with the massive dorado, so who knows….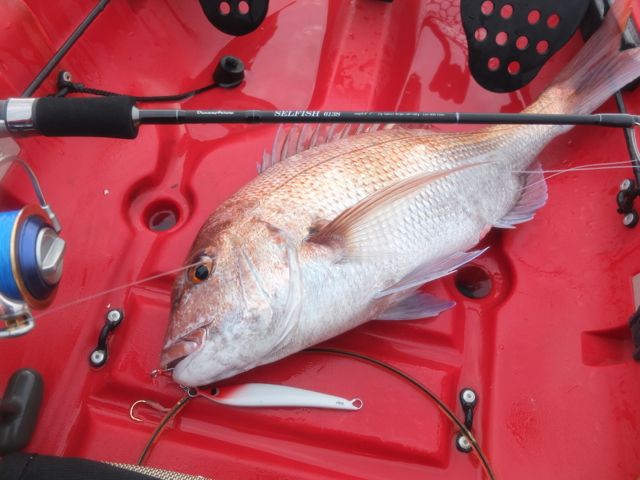 I have also been in seach for the rock-fish as I had a photo shoot for a Japanese Mag. Its not too difficult to find these once you know where the submerged rock are located. It helps with a fish finder as you can see what kind of terrain you are fishing in.
I had been fishing with the Tide Vib Score and Slim but once I started using the Beach Walker Haul, it was another story.
The Rock fish loved it and never looked back! It manages to hit the bottom faster than the Vib lures, but appeals to the fish very successful with its volumptious body.
So for those off-shore entheusiasts, it will surly become one of your favorite lures when fishing the shallow (15~20m) rocky area targeting corral trout, groupers, and obviously the flat fish which it was designed for.
Tackle Data: (Rock fish)
Lure: Beach Walker Haul 27g, 21g, Tide Vibe Score
Rod: Ripple Fisher Snapper 64M
Line: Sunline PE jigger HG 16lb
Leader: Sunline V Hard (Floro) 20lb
Jiggin'
Lure: Press Bait Fusion 90, UZU Shaba jig, etc
Rod: Ripple Fisher Selfish 613S
Line: Sunline Castaway Monster battle 60lb
Leader: Sunline System Shock leader 70lb