Commercial Boat Fishing in Japan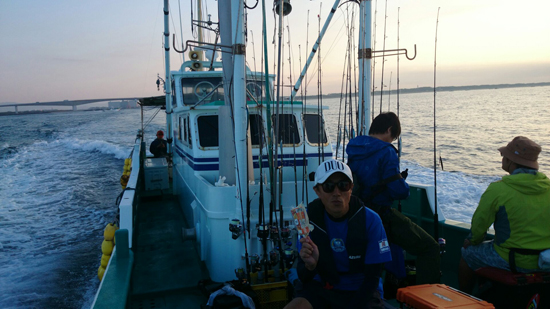 In Japan, we have a very unique system of the commercial fishing boat. The system is to share the boat with a complete stranger for a day. It means that I could make a reservation of such a style boat alone. That`s the main benefit as there is no need to take charter and organize a group of anglers, which also in turn brings the cost down. That `s why it`s much easier to go off shore fishing here in Japan.
During summer, it`s possible to enjoy tuna fishing at various places. Not only is Japan know to consume a lot of tuna, but we also love fishing for it as it`s recognized as one of the best gamefish that is offered here. This time we targetted yellowfin tuna of 5kg to 50kg, but were also hoping for a bigger blackfin, though to get one`s hand on a fish like that is to be very lucky.
While fishing we came across several species, be it bonito or doplhin fish(dorado). For this kind of pelagic fish, last year`s Rough Trail Blazin is one of my favourites. The heavy sinking minnow offers stable swimming performance on both high speed and low speed and with 40 grams packed in its 92 mm body, you know that the casting performance is very good too.
As mentioned above, the commercial boat takes several anglers to the waters, so you can imagine that there are many kinds of fishing lures being thrown at the targets highlighted by the captain. So to stand out in such a crowded atmosphere, the lure must really hold something special in order to attract the fish. DUO already had a good selection of these kind of lures for pelagics in Press Bait HD series, which while very good for doplhin fish, was at times too big for bonito. The new Blazin now fills this hole and is capable of attracting both species.
Number of times, we have tried to target tuna, but doplhin fish was always faster and bite the lure faster. The doplhin fish, while not the original target, was still a prized catch and offered a good fight at light tackle. Though in the end, my friend manages to get a hand at one yellowfin putting the trip to a succesful end.
Lure: Rough Trail Blazin
Rod: Palms Coralstar CDOS-76MH
Reel: Catalina 5000H
Line: PE#4
Leader: Nylon 80lb
Yuji Saiki