Markos Vidalis: Saltwater surface games with Realis Pencil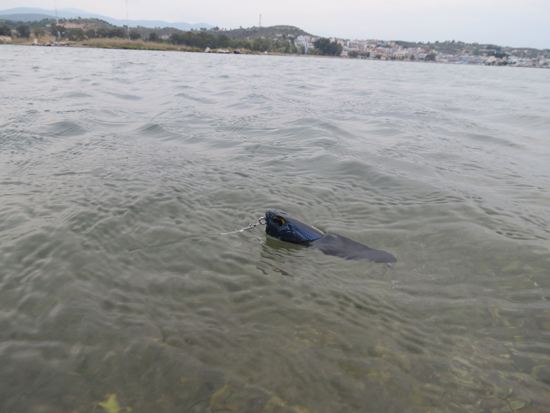 It's been almost 2 years in which I constantly use the Realis Pencil in the Mediterranean! During this time I had the chance to use it in different sea environments and conditions, so by now I have a very good point of view about it! I know that the Mediterranean Sea is very salty and unique region, and this is the reason why I believe that in different seas also, this extreme lure can be equally or even more effective. Now if you wonder what's up with Realis Pencil, I will tell you this. It really kick (b)ass in certain conditions. But let's get the story from its start.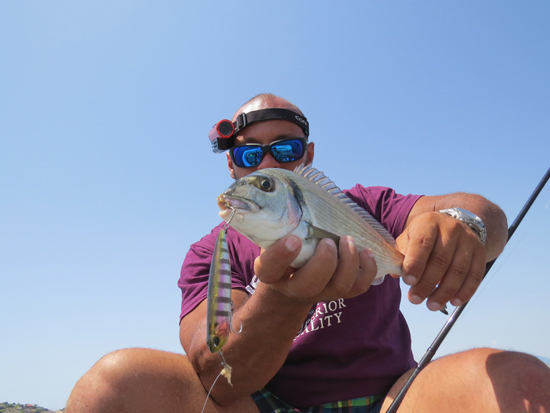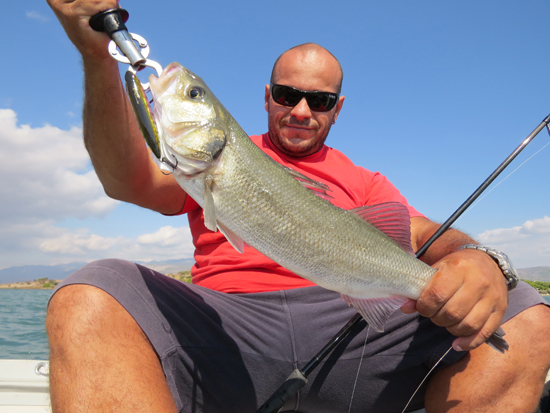 Having a very close relationship with DUO and especially my good friend Martin, I often cause him a headache by asking him to send me lures that have nothing to do with saltwater. Martin in order to get rid of me, he agrees, and the next months I'm passing my time experimenting with them. This is more or less how the story started with Realis Pencil. In the pictures it was looking alluring! Nice obvious eye, very nice shape for a pencil, nice colors, and the unique "bubble" under its chin, was looking very promising. Soon I had it in my hands and even thought I got in love with it by sight, when I move it in my hands I heard this "annoying" clacking and got a little scared. Especially the "cursed" bone high sound was clacking like a drum! I mean with more sound than this you die! So I took a nice walk down the port to take a short test and I still remember that click – clack the lure perform while "doggy style" from as far as the cast was. I immediately said to myself that in high fishing pressure environments like this, a sea bass would NEVER show interest to something so "unrealis" in sound. I strangle my enthusiasm and put it in my lurebox, but never had the courage to use it in real fishing conditions. This until…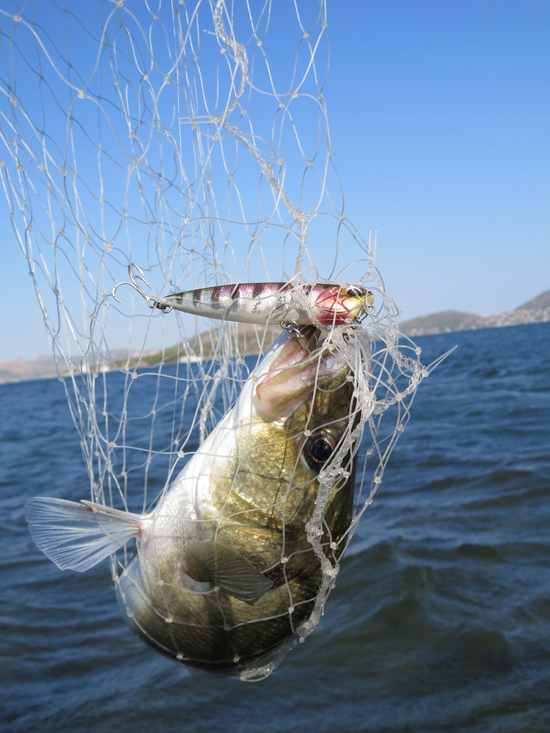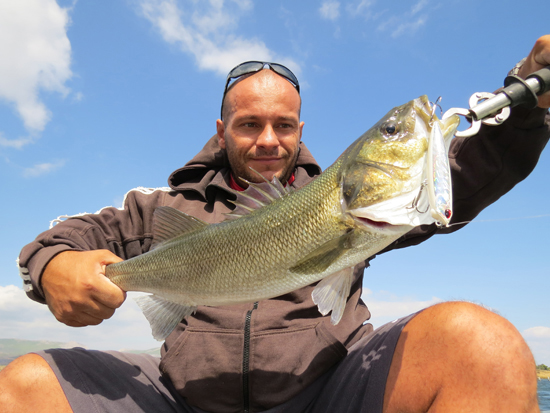 The apocalypse!
I have severe sea bass fishing spots, in which I perform my fishing with very delicate way, in order not to stress the area by constant fishing. Unfortunately a very nice one which is in front of a clear water stream, got infected by maniacs that was every day there. Soon the Sea bass of this area lost interest in every lure, both minnows and top waters. I was heartbroken! Suddenly a glass of chlorine bottoms up was looking a fantastic idea! What a cruel world! Me and five more inflatable boats near the shore were just wetting our lures, while the smart sea bass, were completely out of interest. In such situations I'm sure that most of us, try different things and lures that was never trusted before. So in my experiment I saw in my lure box, the sweet looking Realis Pencil 85 looking at me with the characteristic DUO eyes begging to give it a chance. The weather was very calm and the waters very shallow and clear. It was like if this lure had a chance from my experience to work well, this would be at least with cloudy – muddy waters and for sure with not stressed sea bass.
I said what the hell? You are ON you little megasound thing! I attached it to the clip and cast. In the first retrieve I thought I saw the water behind it moving. In the next cast and while I was hearing the annoying click clack of it, a splash cut my blood, and shook my rod! A sea bass of 1.5kg was reality and open the game! Well if you could take a look in my mind that time, it would be like: ?????????????????????????? I continue fishing with it, and the rest of the day came along with 7 sea bass from 800 to 2.500kgr and a sea bream. Sea breams are not known to attack lures, especially top waters, but this lure had something that was making the difference. As you can imagine in my next sea bass fishing this lure came out first, and the day found me experimenting with colors, writing down my thoughts and notices. Soon more fishing trips came and this little fellow gave me even more species like queen fish, bluefish (especially the 110 model) and a constant row of sea bass and sea breams! Time and use proved me that what I feared most, it was the key to my success. The sound!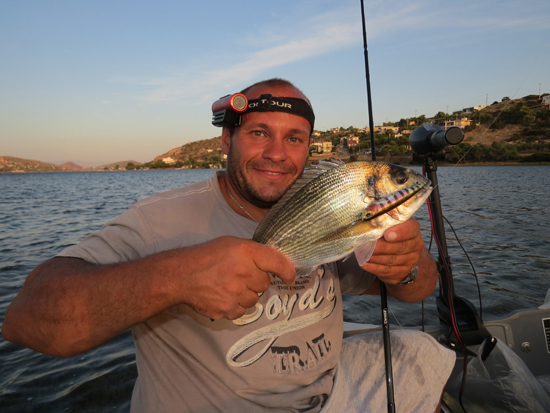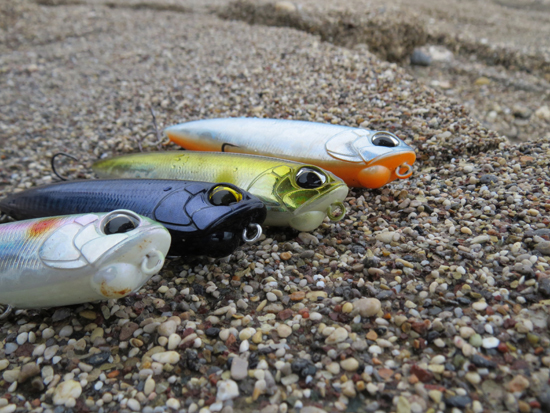 Best way to use for sea bass
This lure was one of the very few cases that overcome my experience and once again showed the one and only? real(is) rule in fishing: There are no rules! Now the best way and conditions to use Realis pencil in the sea for sea bass is as it follows. I used it in different wind conditions and in ports, from beaches, in deep waters, from boat? etc, and find out that calm water, even though it is not the ideal condition for sea bass fishing, it is for using the realis pencil. With calm water and without wind, the realis is a "piece of cake" to perform the walk the dog action even by amateurs. It can be also used effectively with a little wind, but strong wind especially by side, make the perfect control of the lure difficult and doesn't offer an effective hook up.
Now the places it can make the difference are the spots of rivers or springs that meet the sea, small quiet fishing boat ports, and every type of beach! Try with slower or faster WTD and see where the sea bass respond. The gear that I love to use it is a top water rod with a 2500 reel that has a high gear ratio like 6:1. The fast retrieve allows the braid to have a better contact while spooling, so the "bird nest" effect is limited, especially with a fine reel. The braid I prefer most is an 8 strand PE 0.8 diameter, with a FC leader 0.28mm. It is VERY important in order to have the best action of this lure, to use a small secure wide snap clip, or tie it directly to the leader. And if you want to "pimp" your lure for saltwater environment, change the trebles after the first use with Owner ST-21 L # 6 for the Pencil 85 and # 2 for the 110. Those trebles are light, thin and doesn't affect the lures action while have a formidable cutting point to penetrate even the fish scales. Don't hesitate to give your own personal use to this lure, and find out in which fish species and conditions works better in your area! Because it will work!
Tight lines…