Jerremy Akiyama: tough times
The land based blue runner fishing is a tough challenge….. Well, it has been for me this past season with basically little to no contact from the fish. But when that rare opportunity presents its self, I certainly want to capitalize on that chance.
This time round, I managed to come out ontop with this nice yellowtail off the rocks with non other than the Aomasa 188. To be brutally honest though, it didn't take the lure with its especially designed sliding action, but a simple skipping on the surface while I was retrieving the lure….. Either way, I'l take the catch!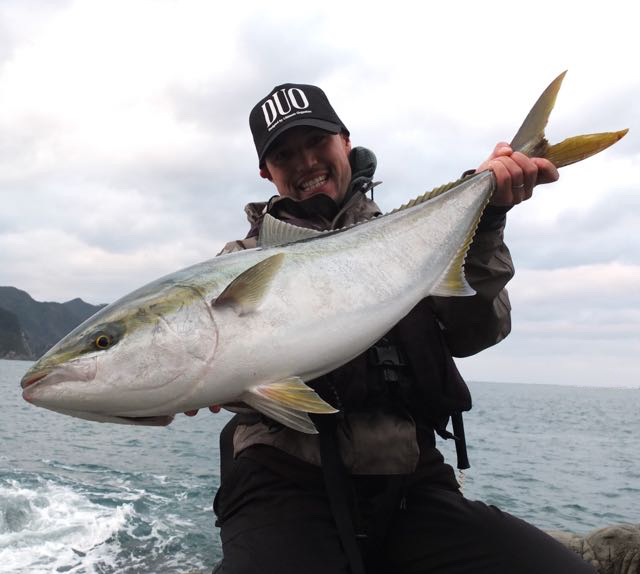 Some of you may already know from attending the fishing shows around the world and through the newly introduced news-letter system DUO has started, but there will be a sinking model as well as a version that is designed especially for single hooks.
The current model is not very good with single hooks and with various regulations around the world and requests from anglers, we have decided to produce this special model. Also, many anglers have requested for a sinking model to target the larger pelagic species with heavier tackle.
The specifications have yet to be determined so please stand by for further updates on their developments. It might be a good idea to subscribe to that news-letter system!!
Tackle Data:
Lure: Rough Trail Aomasa 188
Rod: Ripple Fisher Runner Exceed 911
Reel: Saltiga 4500
Line: Sunline Monster Battle 60lb?
Leader: Sunline System Shock Leader 80lb
Sunglasses: SWANS Dee-I