Completing the Aomasa range for new depth applications
We present you the sinking version of the Aomasa 148 especially designed to target those feeding bluerunners on the surface. Not only has its casting distance increased drastically, it is able to fall in a horizontal posture mimicking a dying or weak bait fish. Its outstanding cast ability will surely be of advantage to those land based anglers.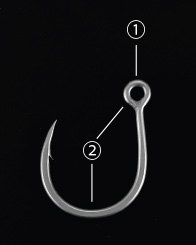 (1) A straight eye from the hook for easier use with plugs.
(2) A welded eye + flat sided for extra strength.
(3) Astonishing rust repelling abilities with the unique "Ultra-anti-rusting processing".
The straight eye from the hook is most suited for plugs allowing for greater balance and the thinly shaved hook eye reduces the damage when attaching split-rings. In addition, the hook-eye is also welded on for greater strength. The main shaft of the hook is flattened for increased strength while helping the point to penetrate easier. The "Ultra-anti-rusting processing" will help anglers maintain their gear and hooks in mint condition.